Overview
Mentors inspire, encourage, and support you, and contribute to your professional and personal development. You can expect to strengthen and build your network, and gain the skills and confidence necessary to excel. For more detailed information and additional FAQ's visit our website.
Frequently Asked Questions
What are the student eligibility requirements for this program?

LACE is open to Harpur College undergraduates in good academic standing with a minimum 2.75 cumulative GPA. Preference is given to rising and current sophomores, but juniors and seniors can still apply.
What is the time commitment? Students and mentors meet at the sponsor's workplace 3 to 5 times for at least one half day per visit. The program is structured to ensure the opportunity for success by providing flexibility to meet the needs of each mentor/mentee pair.
What type of mentors participate in this program? Mentor availability varies by session, but mentors typically represent a wide range of fields including education, business, non-profit, government, entertainment, environment and more.
I have additional questions, where can I go or who can I ask? You can visit our website or contact lace@binghamton.edu.
Apply for LACE
Apply for this amazing professional development opportunity today!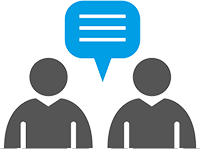 Applications are not currently being accepted.
Check back next semester!
Program Overview:

Selected LACE participants are matched with a professional alum for a shadowing experience over winter or summer break. Student participants are required to attend an orientation prior to the externship. Each pair establishes goals and plans logistics for their shadowing experience. At the conclusion of the shadowing session, students reflect on their experience and complete a program evaluation.